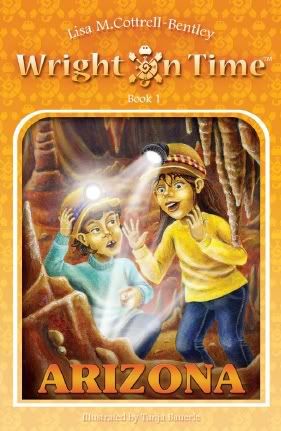 Woo Hoo, I'm excited!!! Finally, Wright on Time: ARIZONA, Book 1 is a book for kids that is a fictional story about a homeschool family. Despite the fact that homeschool is more popular today than ever, I still have my moments where I feel self conscious when others question our choice to homeschool. I can not EMPHASIZE how GREAT it is to have a book like this for homeschool kids!!
My son was so excited about this book. He DEVOURED it. I was thinking we would stretch the book out over the course of a week and incorporate it into a reading unit for our homeschool curriculum. My son Austin didn't quite make that possible as he sped read this book. He really enjoyed the story. I think he is actually contemplating if we as a family can pull off an RV adventure much like the characters in this book!
One of the things that really made this book stand out for him were all the details about minerals and gems that the family is exploring for. You see, this summer we took the kids gem mining in the mountains of NC. Austin still had all the details from that family activity fresh in his head. In fact, he still had the mineral chart from our trip. He quickly pulled that out as he was reading through this story. He still remembers the details and names of certain rocks and minerals and it's been several weeks since he read this book. When he remembers certain details and continues to remember and talk about it several weeks later, that's how I know he enjoyed the book.
This story begins with a family of four setting out on a cave exploring adventure. There are mysterious details in the story the really help build the reader's interest. The author Lisa M. Cottrell-Bentley has written a fantastic book that kids are definitely going to enjoy. The story leaves the reader itching to get started on the next book in the series to continue unraveling the mystery!
One big plus that I really liked about this book is the glossary of terms in the back. When Austin needed to know what a word meant, he could simply flip to the back to read the definition. This book has such great educational qualities, but the kids won't be complaining because they'll be having too much fun reading and discovering to notice. I really do believe that's when the best learning takes place!
The illustrations in this book are some of the best I have seen done in a chapter book. I always feel like the pictures become a little boring as children progress into chapter books. Not the case for this book. Tanja Bauerle's illustration work in this story are wonderful. They are very eye catching. No matter how old kids grow, they still love illustrations.
The book costs $12.99 and is put out by Write On Time Books. That's about average price for a paperback chapter book. The book is also available on Amazon.
When we first got the details about this book I checked out the website to find out more. I was shocked to learn of the number of families that are living out the RV adventure. My husband definitely started running through the scenarios in his head. We could envision one day doing an RV adventure as a family. We already know full well that our boys are on board for that idea! So thanks to this book, we have a new family dream to add to the To Do List!
This is a Mama Buzz review. The product was provided by Lisa M. Cottrell-Bentley and/or Wright on Time Books for this review.